Whether you've recently adopted a full-grown female German Shepherd or just welcomed a new girl puppy into your family, it's time for an essential task – choosing a name. The act of naming your new companion is a crucial aspect of integrating her into your household. It is a name that should mirror some of her personality traits, and it should also be a name you'll be proud to call out for the rest of her life.
The options are manifold. You could decide on one of the most popular female German Shepherd names or choose to go with a completely unique girl German Shepherd name. The process may seem daunting at first, but the perfect name is often closer than you think.
To start, you may consider trying out various German Shepherd names for your female canine. Pronounce them out loud, observe how easily they roll off your tongue. Envision yourself calling out that name several times a day. Would you feel comfortable shouting it out in the dog park? Or when someone asks you about your dog's name? If the name resonates with you and you find joy in sharing the story behind it, you've probably found the perfect name.
In case you're still undecided, give yourself a day to interact and bond with your puppy. It's not uncommon for suitable names to 'pop' into your mind during these intimate moments.
The truth is, selecting the ideal girl German Shepherd name can be a daunting task. It requires considerable thought and research because, after all, this is a name you'll be using daily for several years.
To help you in your quest, we've compiled a list of the most uncommon, popular, and unique female GSD. These charming names could all make for fantastic choices. Browse through them and see which one resonates with you the most.
Best Female German Shepherd Names Ideas
When it comes to choosing the best female German Shepherd names, the options are as varied and dynamic as these dogs themselves. Among the top choices, there's "Bella," an all-time favorite, symbolizing beauty and elegance. "Luna" is another popular name, capturing the mystique of the night sky. Names like "Sadie," "Lucy," and "Molly" are also beloved choices, exuding warmth and friendliness. For those drawn to strength and resilience, names such as "Sheba," "Roxy," or "Athena" echo the robust and protective nature of the breed. Additionally, German names like "Freya," "Elsa," or "Heidi" pay homage to the breed's heritage, instilling a sense of identity and uniqueness. These top female GSD names perfectly encapsulate various facets of their personality, appearance, and heritage.
Abby (joy of the father)
Adela
Adriana
Alana ("Lana" for short; little rock)
Alex
Alexis ("Lexi" for short; helper, defender)
Alicia
Aloha
Ambrosia
Amy
Annabelle
Annie
Annika (gracious, merciful)
Ariana
Ariel
Arthur's Queen
Aster
Auda
Audrey (noble strength)
Autumn
Ava (life, voice, sound)
Avila
Bacardi
Bailey
Barbarella
Barbie
Beatrix
Bella
Berta (bright)
Betty
Birdie
Blossom
Britta
Calamity
Cassie
Charlotte ("Lotti for short; free man, petite)
Charmaine
Chloe
Clarabelle
Clementine
Countess
Daffodil
Daisy
Dancer
Destiny
Dixie
Dora
Duchess
Ellie
Emma (whole, universal)
Empress
Evie
Fancy
Felicity
Fergie
Fern
Flicka
Florian
Flower
Freya
Frida
Frieda (peaceful ruler)
Fritzie
Geisha Lady
Gem
Gemma
Gigi
Ginger
Gisela
Gracie
Greta (a pearl)
Gretel
Griselda ("Zelda" for short; blessed, happy)
Gypsy
Hanna
Harmony
Heidi
Helga
Hessia
Holly
Ida (deed, action)
Ilse
Ingrid
Iris
Ishtar
Ivie
Jasmine
Jenna
Jessica
Jessie
Kaja (alive)
Katrin
Kelly
Kenna
Kenya
Kesha
Klara
Lady
Layla
Leona (lion, my strength)
Lexi
Lexy
Liesel (oath to God)
Livia
Lizzie
Lucy
Lulu
Macy
Madame
Maggie
Majesty
Mandy
Marta
Matilda ("Tilda" for short; might, strength, battle)
Mazie
Melody
Mia (mine, dear, darling)
Millie
Mimi
Minnie
Mischa
Missy
Molly
Mona Lisa
Muffy
Nadine
Nala (Queen, lion)
Nancy
Nellie
Nia
Nina
Nora
Oda
Ola
Oprah
Panda
Pandora
Penny
Peony
Petunia
Piper
Polly
Portia
Precious
Princess
Queenie
Quinn
Quola
Rachel
Reese
Rosa
Rose
Rosemary
Rosie
Rowan
Roz
Sabrina
Sage
Sandy
Sascha (man's defender)
Sasha
Saxa
Serendipity
Serenity
Sheba
Sine
Sissy
Skye
Skylar
Sonje (wise)
Star
Suki
Summer
Susanne
Tallisa
Tally
Tessa
Treasure
Trixie
Trudie (spear of strength, familiar, loved)
Udessa
Ultra
Ursula
Venus
Vera (faith, truth)
Victoria
Wendy
Wild Thing
Wildfire
Willa
Willow
Xenia
Yaska
Zelda
Zephyr
Zoe (life)
Zoey
Unique Female German Shepherd Names
Choosing a unique name for your female German Shepherd can be a fun and rewarding task. It allows you to truly capture the distinctive character and spirit of your dog, setting her apart from the pack. Names like "Zephyr," hinting at a swift and energetic personality, or "Nimbus," for those who have a stormy yet adorable presence, are unusual yet fitting choices. "Galadriel," borrowed from fantasy literature, could suit a regal and graceful female German Shepherd. In the spirit of uniqueness, here are ideas for unique girl German Shepherd names:
Astra
Briar
Calliope
Drizzle
Elysium
Fable
Gossamer
Havoc
Isolde
Jinx
Kismet
Lyric
Morwen
Nebula
Odyssey
Prism
Quasar
Rhapsody
Solstice
Twila
Ursa
Vesper
Whisper
Xanadu
Ygritte
Zinnia
Yara
Xena
Wisteria
Valkyrie
Utopia
Thistle
Sonata
Rigel
Quinoa
Pippin
Ophelia
Nyx
Mystique
Labyrinth
Kahlua
Juniper
Iolite
Hydra
Glimmer
Frostine
Ember
Dahlia
Cosmo
Azure
Exotic Female German Shepherd Names
Selecting an exotic name for your female German Shepherd can lend a touch of uniqueness and flair to her persona. Exotic names often originate from diverse cultures, languages, and mythologies, bringing with them a sense of intrigue and charm. Whether it's a name derived from Greek mythology, an unusual flower, or an exotic location, these names add an aura of mystique to your beloved pet. Here are exotic name ideas for your girl German Shepherd:
Amaryllis
Boudica
Calypso
Demeter
Elysia
Freyja
Gaia
Halcyon
Ishtar
Jovita
Kalindi
Laverna
Myrrh
Nymeria
Orion
Persephone
Quilla
Rhea
Seraphina
Thalassa
Uzuri
Vega
Wisteria
Xochitl
Yara
Zenobia
Artemis
Briseis
Ceres
Delphine
Electra
Fiamma
Galadriel
Hebe
Isolde
Jara
Kassandra
Leda
Maia
Nefertari
Oona
Pandora
Quinta
Rhiannon
Selene
Thalia
Uma
Venus
Wren
Xanthe
Strong Female German Shepherd Names
Naming your female German Shepherd with a strong name can beautifully mirror the physical strength, resilience, and powerful personality inherent to the breed. These names can stem from mythology, historical figures, natural elements, or even celestial bodies, all symbolizing strength, bravery, and power. Here are strong female GSD names ideas for your consideration:
Athena
Valkyrie
Xena
Amazon
Nyx
Electra
Blitz
Beretta
Harley
Hilda
Freya
Artemis
Andromeda
Rogue
Echo
Delta
Warrior
Sheba
Sable
Zephyr
Storm
Nova
Terra
Vixen
Vega
Rhea
Onyx
Medusa
Liberty
Justice
Hera
Fury
Ember
Diamond
Cleo
Blaze
Boudica
Asteria
Valkyrie
Titan
Siren
Rebel
Olympia
Nala
Mars
Lightning
Kali
Jet
Iris
Havoc
Tough Female German Shepherd Names
Choosing a tough name for your female German Shepherd can be a reflection of her robust physical abilities, her fierce loyalty, and the fearless nature that is characteristic of the breed. These names can draw inspiration from various sources, such as formidable historical figures, powerful mythological entities, or even resilient natural elements. Here are 50 tough female GSD names to consider:
Rogue
Amazon
Vixen
Sheba
Havoc
Storm
Raven
Koda
Fury
Blitz
Cobra
Dagger
Ebony
Fierce
Gunner
Harley
Inferno
Jaguar
Khaos
Luna
Magnum
Nova
Onyx
Pyro
Quake
Raptor
Saber
Tank
Ursula
Venom
Wolf
X-Force
Yeti
Zephyr
Avalanche
Bullet
Clash
Danger
Ember
Fireball
Grit
Hammer
Ironclad
Justice
Kraken
Lockjaw
Maverick
Nitro
Outlaw
Phantom
Black Female German Shepherd Names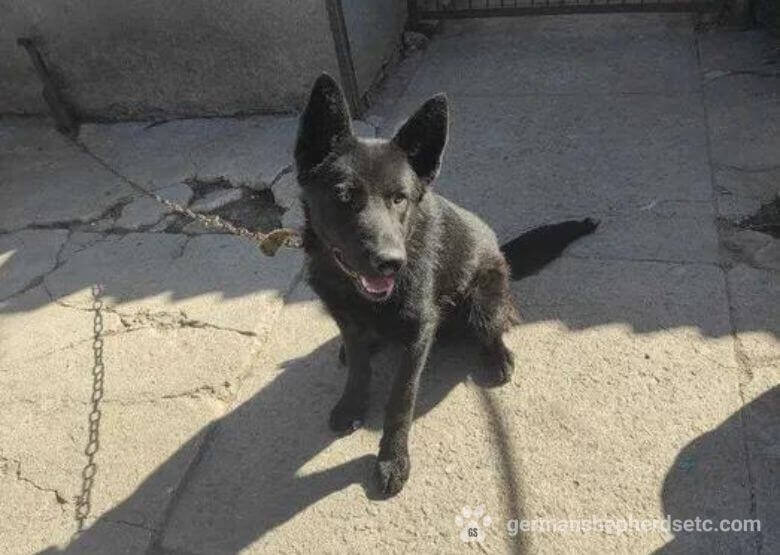 If you've welcomed a black female German Shepherd into your life, choosing a name that reflects her beautiful, dark coat can add a touch of uniqueness and personalization. Black is a color often associated with mystery, strength, and elegance, so your German Shepherd's name can be inspired by these aspects or anything that reminds you of the night, darkness, or the color black. Here are name suggestions for your black female German Shepherd:
Midnight
Shadow
Raven
Onyx
Ebony
Sable
Noir
Cinder
Pepper
Velvet
Luna
Eclipse
Phantom
Mystique
Jet
Ink
Cosmos
Starling
Smoky
Twilight
Obsidian
Nightshade
Vesper
Charcoal
Thunder
Umbra
Mamba
Opal
Zephyr
Stardust
Solstice
Galaxy
Shady
Carbon
Ash
Puma
Stormy
Silhouette
Dusky
Panther
Nimbus
Eclipse
Nightfall
Gloom
Iron
Slate
Foggy
Tar
Misty
Graphite
German Shepherd Female Names With Meaning
Choosing a German Shepherd female name with a meaningful essence can add depth and personal significance to the bonding process with your pet. Such names can stem from various cultures, languages, and histories, each bearing a unique sense of identity. They can represent qualities such as strength, loyalty, beauty, or even connect to the breed's German roots.
Ada – noble, kind
Adal – serene and noble
Addie – also noble, nobility
Adele – saint
Agathe – honorable, good
Alarica – rules all
Alaska – a mainland
Alda – wise
Alfreda – wise counselor
Alpha – code word used in military
Amala – work
Amelia – work
Andromeda – ruler of men
Anka – purse
Anne – name of the famous queen of Great Britain
Annette – the Lord has favored me
Annika – graceful
Aubrey – noble
Ava – life
Ayla – Turkish name referring to the "halo of light around the moon"
Bailey – steward
Barky – rough
Bathilda – heroine
Beate – happy
Beatrix – she who brings happiness
Bernadette – brave as a bear
Berta – intelligent, glorious
Bertha – "bright" in German
Bijou – "jewel" in French
Brass – a military term used to denote officers
Britta – strength or exalted one
Brunhilde – armed for battle
Buddy – the first trained guide dog
Butterbean – a lima bean
Caroline – free man
Cassaandra – Trojan princess in Greek mythology
Catherine – French name meaning "pure"
Cayden – the spirit of battle
Claudia – enclosure
Cleopatra – glory of her father
Dagmar – famous, glorious
Dakota – friendly
Delta – code name used in the military
Diana – refers to the Roman goddess of the moon
Diva – celebrated singer
Dolly – the German shepherd dog owned by the American actress "Jeniffer Aniston"
Duxi – warrior of the people
Ebba – fortress
Echo – reverberating sound
Elektra – shining
Elizabeth – Hebrew name meaning "God is abundance," Queen of the United Kingdom
Ella – all, completely
Ellie – a police dog in the 2017 movie "A Dog's Purpose"
Elma – protection
Elsa – pledged to God
Emma – universal
Erika – means eternal ruler
Erma – a German name meaning "Goddess of War"
Ethel – noble
Flicka – "little girl" in Swedish
Frauke – little lady
Fräulein – miss
Frederika – peaceful ruler
Frieda – peaceful
Fritzi – also peaceful ruler
Gabriella – "God is my Strength" in Hebrew
Galiana – light
Gerda – protected
Gerde – beloved warrior
Githa – bright
Gloria – feminine form of glory
Grace – a military code
Greta – pearl
Gretchen – pearl
Gretel – the German name for "Pearl"
Gypsy – the other name for a wanderer
Hanna – grace
Havana – a cigar made of Tobacco
Hazel – chocolate
Heidi – noble, serene
Helga – pious
Hella – prosperous
Hilda – battle woman
Hildegarde – fortress
Hillary – a Greek name for "cheerful"
Holle – beloved
Hulda – sweet, lovable
Huntress – the one who hunts
Ida – hard-working
Indiana – land of the Indians
Irmalinda – soft, tender, gentle
Jersey – grassy land
Jinx -charm or spell
Joan of Arc – maid; associated with the national heroine of France
Joanna – Hebrew name meaning "God is Gracious", Name of the Queen of Castile
Joli – Meaning "pretty" in French
Joplin – afflicted
Judy – English Pointer who served with the Royal Navy and was awarded the Dickin Medal in 1946
Julie – vivacious
Juliet – youthful, soft-haired
Kaja – alive
Kaka – black in the Swahili language
Kate – "pure" in Hebrew
Katharina – pure
Katniss – sagittaria, a plant with edible tubers
Katrin – great beauty
Kaya – "wise" in Hopi language
Lava – a dog that was rescued from Iraq in 2005
Layla – loyal, "dark beauty" in Arabic
Leia – weary
Leona – brave as a lioness
Li – pretty and powerful
Liberty – freedom
Liebe – love
Liesel – God is my oath
Lola – lady of sorrows
Lorelei – alluring
Lotti – little woman
Lucy – light
Magnum – a weapon used in the military
Malika – "Queen" in Arabic
Mareike – obstinacy, rebelliousness
Margaret – the French name for "Pearl"
Marta – lady
Mary – refers to the mother of Jesus
Mate – the German Shepherd dog owned by Miley Cyrus
Matilda – "strong in battle", name of German origin
Mercy – compassion
Michelle – French name meaning "gift from God"
Mika – Gift from God
Milla – industrious
Millie – gentle strength
Milo – beloved
Minne – resolute, protector
Minzi – "water" in Xhosa language
Mischa – who is like God
Missile – the weapon used in the military
Missy – means "bee" in Greek
Musta – refers to black color in Finnish
Mystique – fascinating aura of mystery
Nadja – hope
Nancy – grace
Neena – gracious
Nia – bright
Nina – "dream" in native American language
Norberta – bright heroine
Nyx – "shadowy figure"; associated with a Greek Goddess of the night
Oda – fortune
Olga – blessed, holy
Olinda – protector of property
Olympia – mountain of Gods
Ozzy – divine spear
Pepper – spice name
Petra – solid as rock
Petunia – a trumpet-shaped flower
Pistol – a weapon used to fire bullets
Pixie – fairy
Preto – black in Portuguese
Queenie – derived from 'queen'
Raina – mighty army
Raven – wise
Razia – an Arabic name to denote "happiness"
Remington – the ridge town
Remy – means "oar" in Latin
Romey – obstinate, rebellious
Rusty – star of the 1947 film For the Love of Rusty
Sable -sand, black fur
Sabrina – name of the character in the American web series "Chilling Adventures of Sabrina"
Sadie – princess
Sandow – a character in the 1927 movie "Avenging Fangs"
Sara – Indian cricketer and skipper M.S. Dhoni's German shepherd dog
Sascha – defender of mankind
Sasha – derived from the German name "Sascha"
Schatzi – sweetheart
Schatzie – little sweetheart
Scout – military function done by dogs
Semi – a tractor-trailer
Serilda – battle maiden
Sheba – kingdom
Sierra – code word used in the military
Sigrid – beautiful victory
Skye – sheltering
Smoke – vapor comes from fire
Sofie – wisdom
Sonje – wisdom
Sophie – a Greek name for "wisdom, intelligence"
Suki – "loved one" in Japanese
Teena – strong, healthy
Tempeste – storm or stormy
Tiger -powerful cat
Tilli – battle maiden
Totu – soft, long and bell-shaped costume
Tresa – harvester
Trudi – strong spear warrior
Trudy – spear of strength
Tulip – hero in the flim "My Dog Tulip"
Ula – pearl
Ulrika – all-ruling, wolf ruler
Ursula – little female bear
Uzi – weapon used in the military
Vala – singled out
Valerie – "strong" in Latin
Velvet – a woven fabric
Venus – this name refers to the Roman Goddess of love and beauty
Vera – faith, truth
Vice – change
Victoria – name of the British Queen
Vixen – female fox
Wanda – shepherdess; wanderer
Wilhelmina – protector
Winifred – peaceful friend
Winola – charming friend
Xena – hospitable
Yankee – code word used in the military
Yeti – small man-like animal
Zaki – pure, virtuous
Zelda – battle maid
Zenzi – to spring up, grow, thrive
Ziba – meaning "strength"
Zippo – name of a military dog
Zola – means Earth in Latin
Powerful Female German Shepherd Names
Choosing a powerful name for your female German Shepherd can echo the breed's strength, loyalty, and bold nature. Powerful names often elicit a sense of might, dignity, and resilience, perfectly suited for this stalwart breed. Each of these names exudes power and might, perfect for a dog breed as strong and formidable as the German Shepherd. Make sure to choose a name that not only sounds powerful but also fits your dog's unique personality and spirit. Here are powerful female GSD name ideas:
Empress
Olympia
Valkyrie
Queen
Titan
Havoc
Zephyr
Thunder
Phoenix
Liberty
Raptor
Quake
Prowess
Onyx
Majesty
Kestrel
Javelin
Inferno
Huntress
Griffin
Enigma
Dynamo
Cobra
Blaze
Athena
Alpha
Vortex
Ursa
Torque
Sabre
Rumble
Polaris
Nova
Maelstrom
Lancer
Justice
Ignite
Hawk
Gaia
Fury
Echo
Dragon
Comet
Banshee
Artemis
Armada
Xena
Warlock
Tempest
Sphinx
Rare Female German Shepherd Names
If you want your female German Shepherd to stand out from the crowd, choosing a rare name can be an excellent option. Rare names often bring a touch of originality and individuality, adding a layer of uniqueness to your beloved canine. These names may derive from unexplored aspects of nature, obscure mythologies, foreign languages, or even from popular culture's less-trodden paths. Here are rare female GSD name ideas:
Aeon
Brindle
Calixta
Dervla
Eponine
Fjord
Geode
Hestia
Iolite
Jynx
Kestrel
Loxley
Mabli
Naida
Orlaith
Peridot
Quintessa
Rowan
Solara
Thistle
Ursa
Valka
Wynter
Xanthe
Ysolde
Zephyra
Asteria
Briar
Calantha
Delphinia
Elysia
Feronia
Gilda
Hyacinth
Iridessa
Jemima
Kelda
Lirael
Myrrh
Nolana
Ondine
Pippa
Quilla
Rialta
Saffron
Tansy
Uriela
Vespera
Wisteria
Xylia
Cute Female German Shepherd Names
Choosing a cute name for your female German Shepherd is a delightful way to highlight her endearing traits and lovable nature. Cute names can be sweet, light-hearted, and playful, reflecting your pet's charm and your fondness for her. Here are cute female GSD name ideas:
Bella
Daisy
Rosie
Honey
Pixie
Waffles
Buttercup
Lolly
Taffy
Biscuit
Cookie
Pumpkin
Jellybean
Dottie
Twinkle
Snickers
Giggles
Nibbles
Skittles
Twizzler
Whiskers
Marshmallow
Pudding
Pookie
Ruffles
Cuddles
Sprinkles
Muffin
Cupcake
Peaches
Tootsie
Peanut
Fluffy
Mopsy
Gummy
Bonbon
Fizz
Pippin
Wiggles
Truffle
Noodle
Sparkles
Tippy
Jelly
Fudge
Munchkin
Waffle
Cocoa
Poppy
Doodle
Cool Female German Shepherd Names
Giving your female German Shepherd a cool name can express her unique personality, capture her style, and reflect her vibrant energy. Cool names often have an edgy, trendy, or adventurous feel to them. They could be inspired by badass heroines, elements of nature, celestial bodies, or even your favorite pop culture characters. Here are cool female GSD name ideas:
Luna
Nova
Rebel
Storm
Vixen
Phoenix
Elektra
Ember
Harley
Athena
Xena
Rogue
Raven
Mamba
Flash
Ziggy
Quake
Racer
Nebula
Vortex
Pyro
Jet
Blade
Sable
Grit
Onyx
Vega
Matrix
Cobra
Dash
Jinx
Blitz
Fierce
Zephyr
Solstice
Puma
Rumble
Thunder
Orion
Rogue
Fury
Spitfire
Zenith
Quasar
Galaxy
Viper
Titan
Pulsar
Drifter
Blaze
These cool names all offer a touch of individuality and character, making them fantastic choices for your German Shepherd's name. They'll certainly turn heads at the dog park, reflecting your dog's spirited and stylish personality.
Popular Female German Shepherd Names
Naming your female German Shepherd with a popular name can be a great choice, as these names have been tried and loved by many dog owners over time. These names often capture timeless qualities of charm, strength, and loyalty that the breed is known for. Here are popular female GSD name ideas:
Bella
Luna
Lucy
Daisy
Sadie
Molly
Roxy
Zoe
Lola
Stella
Coco
Ruby
Lily
Rosie
Sasha
Mia
Ellie
Lexi
Pepper
Lady
Maggie
Abby
Bailey
Charlie
Ginger
Willow
Dixie
Gracie
Layla
Princess
Kona
Zoe
Hazel
Madison
Angel
Honey
Dakota
Lulu
Queenie
Athena
Nova
Skye
Penny
Jasmine
Maya
Misty
Olive
Piper
Sasha
Harper
Badass Female German Shepherd Names
Choosing a badass name for your female German Shepherd can be a powerful way to honor the breed's inherent strength, courage, and fierceness. Badass names can encapsulate a sense of might, boldness, and resilience. They can be drawn from warrior women, mythical beings, natural phenomena, or any source evoking power and intensity. Here are badass female GSD name ideas:
Valkyrie
Blitz
Raven
Onyx
Thunder
Rogue
Viper
Storm
Sable
Quake
Jinx
Cobra
Fang
Banshee
Pyro
Vortex
Fury
Havoc
Xena
Zephyr
Echo
Raptor
Sabre
Vixen
Reaper
Huntress
Phantom
Ember
Puma
Athena
Comet
Razor
Titan
Grit
Phoenix
Jaguar
Elektra
Nova
Vendetta
Mamba
Spectre
Tornado
Harley
Amazon
Spitfire
Scorch
Hydra
Justice
Torque
Artemis
Each of these badass names has a dynamic, commanding ring to it, perfectly fitting for a German Shepherd, a breed renowned for its power and courage. Remember to choose a name that mirrors your dog's bold personality and fierce spirit.
Embrace the joy of this process and don't rush. If you haven't yet found a name that truly resonates with you, don't worry! Expand your exploration with our extensive range of other curated German Shepherd dog name lists.