Finding the perfect name for your black German Shepherd can be a daunting task. The rarity of all-black coats in this breed makes these dogs even more special, thus requiring a name that complements their unique appearance and personality. Whether you're looking for names that highlight their sleek fur, or something inspired by famous characters with dark attributes, this list is sure to have a moniker that suits your new canine companion perfectly.
German Shepherds with all-black coats are a sight to behold! They possess the same loving and dedicated attributes as their traditionally colored counterparts but sport a magnificent, silky dark coat from head to paw. The striking presence of these black beauties might leave you in awe, and finding the right name to match their stunning fur could be quite the challenge.
Names Inspired by Iconic Characters
One of the most iconic villains in cinema history, Darth Vader, is a character that exudes an intimidating aura, much like your black German Shepherd might. Vader's all-black attire, remarkably poised posture, and his unforgettable audible breathing command a sense of respect and terror. Therefore, naming your intimidating, black-coated German Shepherd "Vader" could be an apt choice.
Other Sith characters, such as Lord Tyranus, Darth Sidious, or even Kylo Ren – Vader's grandchild, can also serve as unique black German Shepherd dog names.
Nature-Inspired Black GSD Names
Nature provides us with numerous black gems that could inspire names for black German Shepherds. For instance, the exquisite black dahlia flower could lend its name to your lovely dog. Dahlias are often associated with inner strength and grace, traits we believe are inherent in most German Shepherds.
Multicultural Influences
Taking inspiration from different languages could add an intriguing twist to your pet's name. For example, you could consider names that mean black in various languages. Furthermore, these dogs could carry monikers inspired by beautiful things in black, like coffee.
Expanding the Options
If none of the aforementioned names resonate with you, don't fret. There are countless other all black German Shepherd names for you to explore. Remember, the perfect name is one that not only compliments your dog's physical attributes but also their unique personality. Choose a name that you and your German Shepherd can happily live with for many years to come!
Best Black German Shepherd Dog Names
Picking the best black GSD names is a combination of personal taste, your dog's personality, and their striking all-black coat. A classic name such as "Blackie" or "Midnight" can emphasize their dark beauty. For something more unique, you might consider "Obsidian", a glossy black volcanic glass, or "Ink", symbolizing their rich, dark coat. Fans of pop culture might lean towards names of famous black-clad characters, like "Batman" or "Zorro". "Noir", which means black in French, could be a stylish, sophisticated choice. Additionally, names that denote strength and power, such as "Bear" or "Thunder" can reflect the strong and commanding presence of your German Shepherd. Ultimately, the best black German Shepherd name is one that pays tribute to your pet's majestic appearance, resonates with their personality, and feels just right for you to call out with affection and pride.
Ash
Batman
Bear
Blackberry
Blackie
Blackjack
Caviar
Charcoal
Cinder
Coal
Cosmos
Domino
Ebony
Eclipse
Espresso
Hades
Ink
Jet
Jett
Knight
Liquorice
Mercury
Midnight
Mystique
Ninja
Noir
Obsidian
Omen
Onyx
Orion
Panther
Phantom
Phantom
Raven
Sable
Shade
Shadow
Shady
Silhouette
Sith
Sleek
Smoky
Starless
Storm
Stygian
Thunder
Umbra
Vader
Velvet
Zorro
Female Black German Shepherd Names
Choosing the perfect female black German Shepherd name can be an exciting endeavor. When it comes to black GS female dogs, you might want to consider names that are elegant and strong, reflecting the beauty and courage of these striking dogs. "Midnight", "Ebony", or "Raven" could be fitting choices that encapsulate their stunning, black coats. For those inspired by celestial bodies, "Stella", meaning star, or "Luna", meaning moon, could reflect the celestial beauty of your all-black girl GSD. Alternatively, famous, powerful women throughout history can also inspire strong female black GSD names. For instance, "Cleopatra" or "Joan" (as in Joan of Arc) could be perfect for your courageous, all-black female German Shepherd. Remember, the most fitting names girl pups could wear are those that reflect their distinctive personality and their impressive, all-black coats.
Angel
Astra
Beauty
Calla
Celeste
Dahlia
Dakota
Darcy
Deadshot
Diabolique
Domino
Donnie
Dusty
Ebony
Fancy
Gem
Ghost Rider
Graphite
Harley
Hecate
Huntress
Inky
Jewel
Kedavra
Leila
Leilo
Licorice
Mamba
Midnight
Minuit
Mora
Morticia
Mystica
Nevermore
Nimbus
Odile
Onyx
Opal
Panther
Pearl
Pepper
Pepsi
Phantom
Pitch
Poe
Puddle
Raven
Rosie
Shade
Silhouette
Sully
Talladega
Tiffany
Trixie
Velvet
Vira
Von Rothbart
Widow
Zukua
Male Black German Shepherd Names
Selecting the right name for your black male GSD is an important task, as this title will reflect his personality and appearance for years to come. When considering male black German Shepherd names, you might look for monikers that highlight their striking dark coats, and powerful presence. Names like "Shadow", "Onyx", or "Knight" could be ideal for these majestic dogs. On the other hand, you may wish to choose a name that carries a historical or mythological connotation. For instance, "Hades", the Greek god of the underworld known for his dark demeanor, or "Merlin", the famous black-clad wizard from Arthurian legend, could inspire interesting male black GSD names. Remember, the perfect name will celebrate your pet's distinctive traits while also encapsulating the essence of your all-black German Shepherd's majestic allure.
Artemis
Batty
Black Jack
Bruno
Calla
Carbon
Caviar
Cecil
Chase
Cinder
Coal
Coal/Cole
Cocoa
Cosmos
Cricket
Darth
Deadshot
Diabolique
Donnie
Duncan
Dusk
Dusty
Eightball
Fancy
Foo
Ghost Rider
Graphite
Gunner
Hawk
Hecate
Hunter
Indigo
Inkblot
Jamesy
Jet
Julian
Kellen
Kettle
King of Spades
Knobby
Kuno
Kuro
Leilo
Luther
Mamba
Merlin
Minuit
Mondo
Nevermore
Nightmare
Nimbus
Onyx
Opal
Panther
Pepper
Pepsi
Phantom
Pitch
Reaper
Reece
Sable
Shade
Shadow
Shawn
Smoke
Smokey
Sooty
Spade
Spot
Steel
Storm
Tanner
Tater
Topper
Vader
Viper
Vlad
Winston
Badass Black German Shepherd Names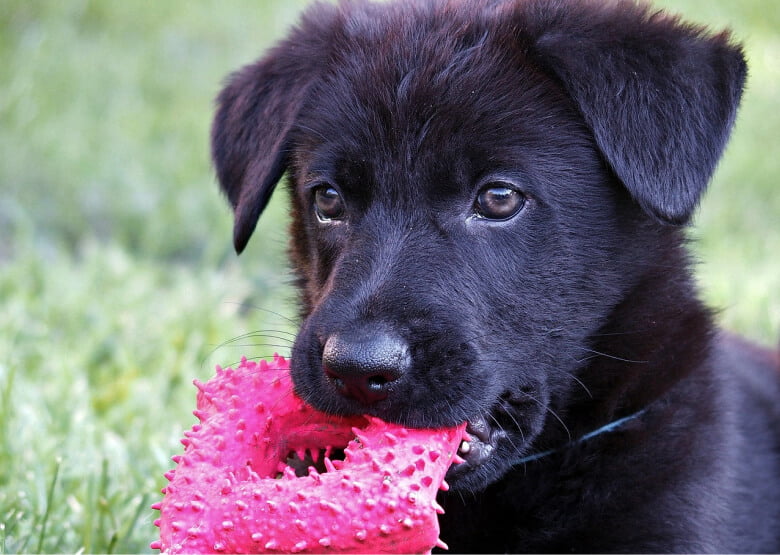 When it comes to badass black GSD names, you're aiming for monikers that carry a sense of strength, power, and unshakable coolness. Given their sleek black coat and commanding presence, names inspired by mythology, nature, and pop culture can hit the mark. Consider "Zeus", the powerful king of the Greek gods, or "Thunder", symbolizing the might of nature. "Ninja", hinting at their agility and stealth, or "Gotham", recalling the dark and gritty city guarded by Batman, can resonate with their mystique. Fans of cinema might gravitate towards "Vader" or "Morpheus". You might also consider names like "Phantom", "Outlaw", or "Rebel" that signify an enigmatic and independent spirit. The perfect badass name for your black German Shepherd should not only reflect their dark and captivating appearance, but also their indomitable spirit and strong personality.
Avalanche
Bandit
Beast
Blade
Bruiser
Chaos
Cobra
Cyclone
Czar
Destroyer
Diablo
Draco
Eclipse
Fury
Ghost
Gotham
Havoc
Hydra
Inferno
Jett
Maverick
Midnight
Morpheus
Ninja
Outlaw
Phantom
Phantom
Pirate
Raptor
Rebel
Ripper
Rogue
Rumble
Shadow
Slayer
Spartan
Specter
Storm
Striker
Stryker
Talon
Thunder
Titan
Torpedo
Vader
Venom
Viper
Vortex
Zephyr
Zeus
Strong Black German Shepherd Names
German Shepherds are known for their strength, agility, and courage, and their names should ideally reflect these qualities. When considering strong black German Shepherd names, you might be inspired by powerful forces in nature, mythology, or even the world of superheroes. For example, "Thunder" or "Tornado" could represent the potent forces of nature, while "Hercules" or "Atlas" pay homage to mighty figures from Greek mythology. Names like "Steel", "Boulder", or "Titan" imply both physical strength and resilience, mirroring the robust nature of your German Shepherd. For those drawn to the world of superheroes, "Thor" or "Hulk" could be fitting choices. Lastly, names such as "Champion", "Warrior", or "Sentry" highlight the German Shepherd's well-known traits of bravery and loyalty. Regardless of your choice, the strong name you select for your black German Shepherd should honor their physical prowess and indomitable spirit.
Admiral
Atlas
Bandit
Bear
Blitz
Blitzkrieg
Boss
Boulder
Bruiser
Brutus
Bulldozer
Bullet
Butch
Caesar
Champion
Cobra
Diesel
Fang
Gladiator
Goliath
Gunner
Hercules
Hulk
Hunter
Juggernaut
Knight
Lion
Maverick
Maximus
Phantom
Ranger
Raptor
Rhino
Rocky
Rogue
Rumble
Samson
Sentry
Sergeant
Spartan
Steel
Sumo
Tank
Thor
Thunder
Titan
Tornado
Trooper
Vandal
Warrior
Unique Black German Shepherd Names
Do you want a name that stands out for your black German Shepherd? There are plenty of unique options to choose from. "Galaxy" is a cool choice that reflects the depth and mystery of your dog's black coat. Or how about "Polaris", the name of the North Star? It's unique and cool. "Inkwell" is another fun option, perfect for a dog with a deep, black coat. If you're a foodie, you could consider "Truffle" for its rare and luxurious black color. "Silhouette" is a unique name that reflects your dog's shadowy figure. In the end, pick a name that's as unique and special as your black German Shepherd.
Cipher
Cosmos
Eclipse
Enigma
Equinox
Eventide
Galaxy
Graphite
Havoc
Hematite
Hyperion
Indigo
Inkwell
Kismet
Maverick
Mirage
Moonbeam
Mosaic
Myth
Nebula
Nocturne
Obsidian
Omen
Oracle
Phantom
Pinnacle
Polaris
Prowler
Quantum
Quasar
Quicksilver
Rhapsody
Sequoia
Serendipity
Shade
Silhouette
Solitaire
Stardust
Talisman
Truffle
Voodoo
Vortex
Whisper
Wraith
Xeno
Zenith
Zephyr
Zephyr
Zest
Zircon
Selecting a name for your new black German Shepherd should be a fun and enjoyable journey. Take your time and don't rush the decision. Remember, the perfect name might not jump out at you immediately, and that's okay. If you haven't found a name that truly resonates with you from this list, don't worry. Feel free to expand your search and delve into our other comprehensive lists of German Shepherd dog names. Your dog's unique name is out there waiting to be discovered!