Our goal here is to help you find the best German Shepherd names. We will provide you with popular male dog names and female dog names, and we will discuss some ways to come up with German Shepherd Dog names on your own so the name you decide on will be uniquely your own.
Of course, you can name your puppy anything you like. Some German Shepherds are named after a trait that they show at a young age. For example, if they are very smart and learn really fast, you might call them "Einstein" after Albert Einstein, the famous mathematician known for being extremely smart. That might work for a male name, but for a female, you might be searching for a more feminine name such as "Precious," who may define who the puppy is and what she is to you.  The following German Shepherd Dog names should help you with your own ideas to name your new puppy. Feel free to use any name listed or combination. There are thousands and thousands of names that won't be covered here, but we hope you can choose a creative name or at least one that fits your puppy and lifestyle!
There are many names for puppies that are interchangeable and can be used for male or female German shepherd names for puppies. Don't let these names limit your imagination:) Come up with many fun names and select your best German shepherd names.
German Shepherd Names Lists
GSD Names Lists By Color
GSD Names Lists By Job
GSD Names Lists By Characteristic
Hopefully, some of these names will help you think of a good name for your German shepherd puppy. In the meantime, we will explain a bit more in detail some ways names are required registrations like the SV and others. When a breeder has their first litter of German shepherd puppies the very first litter must have all of the puppies names begin with the letter "A" and when that breeder has their second litter then all of the puppies in that litter must start with the letter "B" and so on even if different German shepherds were bred as long as they come from the same kennel or breeder.
In the United States, the more commonly known AKC registration allows you to name your dog however you see fit as they do not have the same restrictions on German shepherd dog names as the German SV does. Make sure you check with the breeder for potential name requirements especially if you plan on importing a German shepherd puppy.
German Shepherd Puppy Names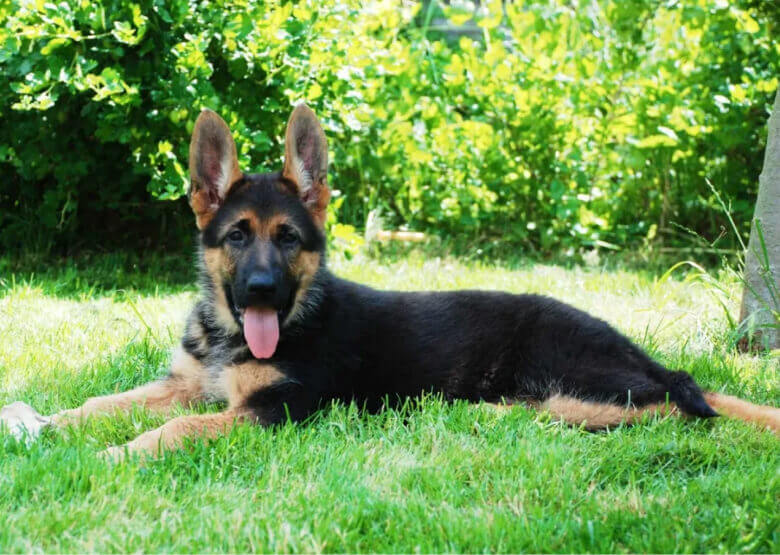 Remember your German shepherd puppy will grow into an adult German shepherd dog so try to make sure what you plan to call it as a puppy will still fit when he or she is an adult. Remember if you are getting an imported puppy your name will be more restricted however you can be very creative with your puppy's name and additionally his actual name can be different than his call name. For example, if your litter happened to start with the letter "Q" but you wanted to name your German shepherd "Princess" instead of saying "Queenie" you could put Queenie on the registration papers but call her Princess! You could also simply call her Queen's "Princess". Have fun with it and your German shepherd puppy name will come easy.
Famous German Shepherd Dog Names and Other Famous Dog Names
There are some very famous German shepherd dog names you might recognize like "Rin Tin Tin" and "Strongheart" from the movies. How about other famous dog names like Lassie? Remember Benji? There are many famous German shepherd dog names from Sieger show winners as well.
You can name your German shepherd after something you like or enjoy such as Cocoa Chanel which is a fancy name for a spoiled or "uppity" female German shepherd or how about an unusual but fun name like "Pepsi"? Sounds funny but it's a good name because you could easily buy personalized items for her such as Pepsi towels or hats etc…..I am sure you could think of many other names based on this example alone.
What does the name mean in a German Shepherd's pedigree?
Everyone is free to call a dog freely patrolling your yard or running around the streets as he likes. It is quite another matter if it has a name registered in the pedigree because there are fixed rules.
The names for shepherd dogs, added to the pedigree, are not made up by the owners but are compiled according to a specific scheme.
In the certificate of a German Shepherd puppy, after the verification of a litter (examination on the 45th day after birth for compliance to the standards of the breed), there should be entered data about the parents (they, of course, have their pedigrees), the description of the baby (height, weight, color) and the letter with which the name of the Shepherd should begin.
According to FCI rules, all puppies born in the same litter get names that begin with the same letter – a letter of the alphabet.
We can not call male dog Albert, as well as to call female dog Hanna if they are littermates and the breed manager has identified a litter with the letter "M" or other.
The letter itself depends on what litter their mother brought and how it will be registered in the breeding book.
The first is the letter "A."
The second is the letter "B."
etc.
In addition to the obligatory attachment of a dog's name to an alphabetic letter and the number of litters, it is easy to find out which breeding line and kennel the Shepherd belongs to from the pedigree.
The prefixes and suffixes in a pedigree
It is enough to read the prefix or suffix before or after the dog's name, respectively.
Such prefixes are not a tribute to the breeder's original thinking! It is a registered trademark, as mostly prefixes and suffixes contain names of kennels where this particular litter was obtained, or one of the pups' parents was born.
All prefixes are registered in FCI or AKC. If you haven't found the breeder's name in the lists of both organizations, the pedigree of the German Shepherd dog offered to you is a fake.
The name of the German Shepherd in the pedigree is made according to the rules, not the owner's wish.
Let's look at two versions of the same full name in a pedigree with a prefix and suffix:
Adeline-DeniseHouseholdViscountStrauss(Adeline-Denise of the Viscount Strauss Family) is a German Shepherd female with the double name Adeline-Denise of Viscount Strauss Kennel. Before the kennel's name, there can be a preposition "from" or "of" – Adeline-Denise from Household Viscount Strauss.
Household Viscount Strauss Zanzibar Inberg is a male of the Household Viscount Strauss kennel named Zanzibar Inberg.
Suppose the name of the kennel is long. In that case, it is registered in abbreviated form (no more than 15 characters), for example, HouseholdViscountStrauss – HVS with subsequent transcription in the registry of the FCI or AKC – ZanzibarInbergfromHVS.
Each kennel strictly follows the spelling of its prefixes. If it is accepted in a kennel to use prefix, pedigree will not be considered valid if it is filled with suffix.
Nothing can be changed in the pedigree at all! Your German Shepherd's name is practically a legal address of an individual. By such an official document, you can trace all the life of your German Shepherd and its ancestors from both sides.
If you don't like the name at all
Usually, buying a German Shepherd puppy, you already see the name written in the book, which cannot be changed, since the serial number of the litter, the number, and the name of the puppy is already filed in the registration book, but to add your "home" name is not forbidden.
The second option is to reserve a German Shepherd puppy even before the birth or registration and tell the breeder the name you have chosen (corresponding to the serial letter of the litter) so that he can add it to the registration book.
Breeder or kennel club? The difference in pedigrees
What to do if the mating and birth do not go through any kennel club? If the mom and dad have pedigrees and are assigned to one of the city's breeders? The rule of "serial letter" remains in this case, but your German Shepherd dog won't receive a long beautiful name with the alma mater and length of almost 40 signs – no more. And it is not necessary! Let it stay just Adelina (Delia) or Inberg (Berg)!
The absence of a prefix or suffix is not an indication of weakness in the breeding line, no! It is only an indication that the referral to mating, with subsequent registration of the litter, breeders of puppies parents have received not from the kennel.
Perhaps someday you will be able to start your own line of breeding magnificent German Shepherd dogs, then the names of Inberg and Adelina's descendants will have the prefix "from".
"Occupied" names
Do not try to enter the name of a famous show dog in the certificate – such names, entered in the breeding books of the kennel club, will be "occupied" for the entire 30 years. You can be severely punished for the attempt to misinform people, so great is the importance in professional canine science of the names for German Shepherds, inscribed in pedigree cards!
Home Names
So how do you name a German Shepherd puppy if you have a long and often hard to pronounce name in the family tree? What name does the Shepherd have in the registration book is one thing, but you need to find a name that allows you to communicate with your Shepherd without stressing. Why is this important? Because while you're getting your puppy used to all the details of proper behavior, you won't forget his name and confuse the dog in the process.
All training begins with the very first conditioned reflex – getting your puppy to remember his own name.
That's why there are home names – easy to hear and pronounce and therefore easy for your puppy to remember from a young age.
Tips for choosing home names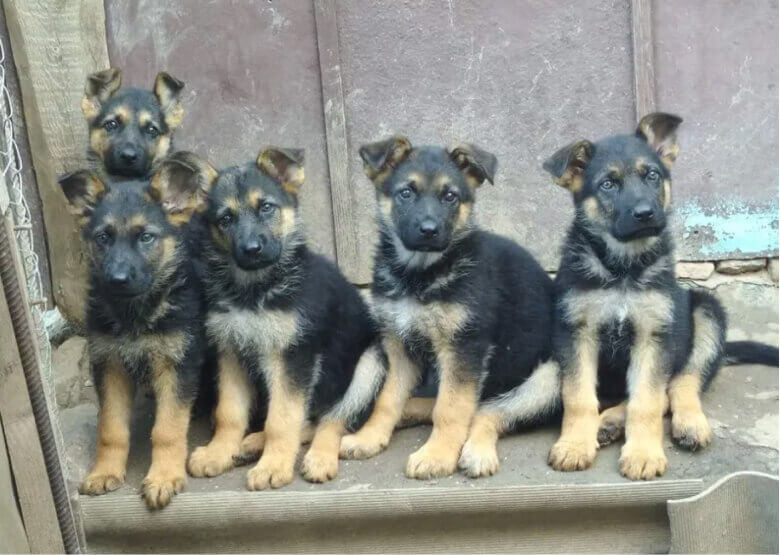 Take another look at your puppy's birth certificate. Perhaps in this official "legal address of an individual," you can spot a word or two that might be appropriate as a home name.
These words should be pleasant to the dog's ears and not cause a disturbance to others.
A puppy's nervous system is no less sensitive to different combinations of sounds than Shepherd's sensitive ears. Sounds of muffled consonants alternating with exactly the same ones will be unpleasant to the ears and nervous system.
For example, the name for a German shepherd girl, "Ushys" or "Shasha," will not be accepted favorably, and it will be difficult for you to work with this name because the Shepherd will "slow down".
A completely different thing – a name for a German Shepherd boy "Red" or "Prince". The muffled and hissed consonants are balanced by the "R" sound pleasant for the dog's hearing in these names.
The presence of a deaf or a resounding "R" sound in a name is desirable but not obligatory.
Variant two is to completely translate a shepherd's name and proceed from the translated text. Many German Shepherds have German names due to their origin, for example, GutaussehendausderHand-Familyie (GutaushendausderHand-Family) – Handsome from the House of Hands.
Playing with the letters a little bit, we get cool home names for German Shepherd boys:
Derhan, Derrick, Dare, Jog, Dinar, Dyman, Drogan;
Han, Hand, Haus, Hagen, Hyde, Hiss, Hafri;
Farm, Faust, Phil, Flint, Fram, Farim, Friend;
Asquet, Agul, Argo, Arman, Ampir, Anteus, Astan;
Groom, Grant, Hess, Garus, Ganges, Gaspar, Gurt;
Minor, Marty, Marth, Myrt, Mars, Murdock, Mirza;
Lynch, Lars, Louth, Laus, Life, Lykes, Lemur, etc.
These same letters and syllables make sound and beautiful names for a German Shepherd girl:
Hannah, Helma, Holly, Haita, Chloe, Hanta, Horta;
Dara, Diva, Dixie, Dosya, Dasma, Dora, Digma;
Athena, Agatha, Astra, Agora, Ira, Agra, Arsa;
Gretta, Gordy, Hera, Gyurma, Gamma, Guta, Gessa;
Martha, Mirra, Mara, Merlin, Murga, Marsa, Magna;
Frieza, Forta, Fanny, Festa, Fabbi, Fronta, Fursa;
Luta, Lasa, Lira, Lady, Liva, Lisma, Linda, etc.
Tips on choosing the best German Shepherd name
The name given to the German Shepherd puppy should be consistent with this large breed of large, intelligent, and extremely understanding dogs with a strong character and an incredibly huge desire to serve you to his last breath.
Respect your German Shepherd Dog! You should not give him a derogatory and dismissive name, which you can think is funny, and for others, it will be a good indicator of your dog and your "wit".
Here are some tips to ease the pain of the choice:
The name should be easy to remember, short and distinctive, and be easy for both the dog and the person to hear.
Do not rush to give a German Shepherd boy a beautiful foreign name. In translation, this name can mean a female object or have a bad meaning at all.
It would be best if you did not choose common names, either.
For example, the name Blacky, stubbornly stuck to the black-colored German shepherds, is rather old-fashioned. 
Avoid choosing a German shepherd's name from the human names – people don't like it when they are called by name; instead, the dog arrives. As an option, you can choose the names of foreign lands or names of historical heroes and names from fantasy movies and books.
Names with special meaning
For example, a German shepherd named Sorel is simply obliged to become as graceful as the antelope Sorel.
The 3-month-old puppy, which was named Buffalo, just can't help but grow as big and strong as a bull and as strong and fearless as a buffalo.
For unexplained reasons, the German Shepherd's name somehow affects its behavior, appearance, character, and future fate.
Therefore, many esotericists suggest that German Shepherd owners called their pets by the letter of the month in which the puppy was born + sign of the zodiac.
For example:
July + Cancer = Irakez, Acrylic, Rial, Lyra, Yucca, Cali;
March + Aries = Manera, Omerta, Author, Tenor, Mentor.
June + Cancer = Junac, Inca, Cain, Nar, Cure;
April + Aries = Oval, Nevers, Venus, Faith, Anola.
And so in all the signs.