Welcome to our joyful exploration of the best German Shepherd names! Our aim is to guide you on an exciting journey to discover a name that suits your adorable German Shepherd pup down to their very last whisker. We've collected the most cherished male and female dog names, perfect for your German Shepherd's distinct personality. Plus, we've sprinkled in a few creative ideas to help you invent a name that's uniquely yours. So, buckle up and let's set off on this name-finding adventure together!
Don't forget – there are no rules in the game of pet naming. Your GSD might already be whispering their name to you, through their unique traits or quirks. Is your pup smart as a whip, learning tricks faster than you can teach them? Maybe they're the 'Einstein' of dogs! On the other hand, perhaps your female pup embodies sweetness and makes your heart flutter, a 'Precious' indeed.
We've curated a list of German Shepherd dog names that will serve as a fountain of inspiration. Feel empowered to dive in, mix, match, or tweak them as you see fit. With countless good German Shepherd names out there, we hope our list will steer you towards a moniker that not only suits your pet's personality, but also resonates with your lifestyle.
And remember, many names can suit any German Shepherd, regardless of gender. Don't let our list cramp your style – let it spark your imagination instead. Explore the world of best German Shepherd names and may the perfect one find you and your furry friend!
TOP German Shepherd Names
Time to dive into the cream of the crop, the 'Best in Show' of names, with our 'Top GSD Names' list. Whether you're seeking something playful, majestic, or classic, you'll find a fitting name for your companion here. So, read on, enjoy the variety, and perhaps even find the perfect tag for your lovable German Shepherd.
Ace
Alpha
Bandit
Bella
Captain
Comet
Diva
Duchess
Echo
Everest
Falcon
Faith
Goliath
Grace
Harley
Hero
Inca
Ivy
Jazz
Jester
King
Koda
Leo
Luna
Maverick
Max
Neptune
Nova
Olive
Oscar
Pepper
Princess
Quill
Queen
Rex
Rocket
Sasha
Star
Thunder
Titan
Ursa
Valkyrie
Venus
Willow
Wrigley
Xena
Xerox
Yukon
Zephyr
Unity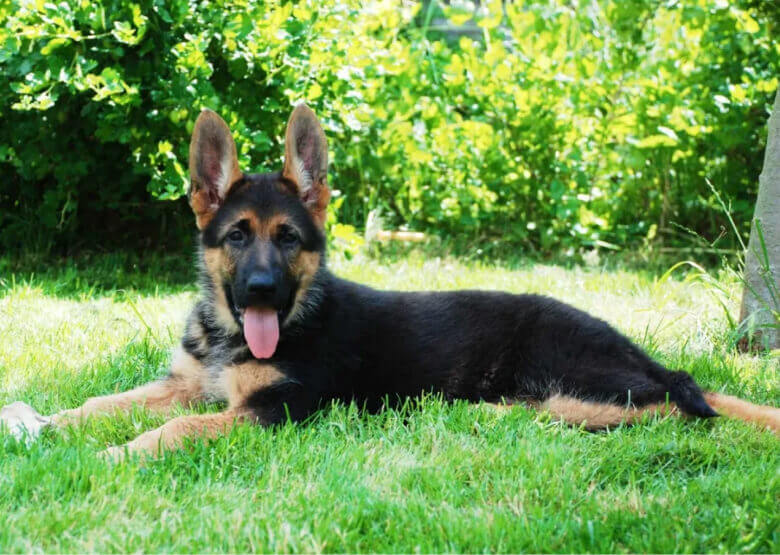 A to Z German Shepherd Dog Names
German Shepherd names starting with A
Ace
Astro
Atlas
Aurora
Ava
Aero
Angel
Ash
Apollo
Autumn
Alaska
Archer
Amber
Azure
Alpine
Aries
Argus
April
Admiral
Amigo
Artie
Alfie
Athena
Aero
Arrow
Ariel
Axel
Aldo
Alvin
Aggie
Arlo
Angus
Astra
Aslan
Aspen
Abbott
Aquarius
Abby
Avalanche
Adonis
Adora
Adele
Alloy
Atlas
Attila
Audi
Avril
Ajax
Amethyst
Aviator
German Shepherd names starting with B
Bella
Buster
Bruno
Bentley
Blaze
Blue
Bonnie
Baron
Biscuit
Bailey
Bear
Bandit
Beau
Boomer
Buddy
Buffy
Blossom
Bolt
Brandy
Bubbles
Bronx
Bridget
Brinkley
Bramble
Butterscotch
Briar
Brody
Bryce
Blizzard
Bongo
Breezy
Bono
Bumblebee
Bree
Boogie
Banksy
Bangle
Bamboo
Brisk
Beach
Booth
Boston
Brew
Bowie
Beryl
Bangle
Bixby
Bravo
Buccaneer
Baloo
German Shepherd names starting with C
Cooper
Coco
Chase
Comet
Candy
Captain
Cubby
Cedar
Casey
Clover
Caramel
Cricket
Charlie
Cash
Cinnamon
Cyrus
Chestnut
Cloud
Cookie
Colt
Cece
Chester
Calypso
Cuddles
Cayenne
Cinch
Cali
Chico
Cinder
Cliff
Cleo
Cosmo
Cherub
Crimson
Chip
Curry
Cosmo
Chicory
Caper
Cherry
Crisp
Chunk
Carmine
Cupcake
Crocus
Click
Cabana
Creek
Coral
Canopy
German Shepherd names starting with D
Daisy
Duke
Dexter
Dakota
Dolly
Dusk
Drummer
Domino
Dallas
Diamond
Dodger
Draco
Disco
Dash
Dapper
Donut
Dream
Dusty
Dancer
Dynamo
Derby
Dove
Duchess
Dewey
Deuce
Diva
Delilah
Diablo
Denim
Daffodil
Dune
Dingo
Dipper
Dizzy
Doodle
Dublin
Dimples
Derby
Dune
Drizzle
Dewdrop
Dandelion
Delta
Decoy
Deckard
Dribble
Dazzle
Dainty
Dusk
Debonair
German Shepherd names starting with E
Echo
Elvis
Ember
Einstein
Earl
Eclair
Everest
Esme
Enzo
Elmo
Ellie
Ebony
Emerald
Eclipse
Elixir
Epsilon
Evie
Enigma
Eastwood
Enchant
Elf
Euphoria
Eureka
Edelweiss
Eternity
Epic
Elfie
Empress
Evolve
Edgy
Elara
Excalibur
Echoes
Esprit
Elfin
Embrace
Endor
Elixir
Eiderdown
Extravaganza
Eyrie
Easel
Ethereal
Ember
Enthrall
Equity
Elusive
Entice
Elvish
Enchantress
German Shepherd names starting with F
Fido
Fluffy
Falcon
Freckles
Flash
Frosty
Fable
Fiesta
Frisky
Flora
Finn
Firefly
Fox
Faith
Furball
Fudge
Fawn
Fizz
Fern
Frankie
Fleet
Fancy
Flopsy
Frodo
Flicker
Folly
Fluke
Flint
Fresco
Fauna
Fairytale
Feta
Freya
Fang
Folly
Fandango
Fresca
Feta
Flapjack
Fandango
Frappe
Fairway
Flamingo
Frostbite
Flurry
Fiesta
Freefall
Feather
Forte
Figment
German Shepherd names starting with G
Gizmo
Grace
Ghost
Gemini
Ginger
Goldie
Gidget
Glacier
Goliath
Galaxy
Gravy
Grizzly
Gump
Goose
Gatsby
Gusto
Garnet
Gumdrop
Gremlin
Glitter
Grits
Gucci
Gusher
Gator
Grove
Groove
Glee
Genesis
Gypsy
Gala
Gustav
Gamma
Griffin
Grinch
Gabby
Grease
Glory
Gingham
Gotham
Gush
Gyro
Gritty
Glaze
Guzzle
Glade
Gable
Giddy
Grail
Gingerbread
Granite
German Shepherd names starting with H
Honey
Hercules
Harmony
Hawk
Halo
Hazel
Hopper
Hunter
Harmony
Huckleberry
Hobbit
Humbug
Hugo
Houdini
Halo
Holiday
Hershey
Hearty
Hatter
Hero
Haystack
Harvest
Hooper
Hawk
Henna
Hyde
Hobo
Hipster
Huggy
Hummingbird
Homie
Howler
Hitch
Hurricane
Hamlet
Harmony
Hickory
Hat-trick
Hodgepodge
Hydrangea
Hyperion
Hutch
Hocus
Harlequin
Hibiscus
Highlander
Happy
Hyacinth
Howdy
Humdinger
German Shepherd names starting with I
Ivy
Iris
Iggy
Indigo
Ike
Icarus
India
Imogen
Iris
Infinity
Ice
Illusion
Isabella
Ivory
Inky
Io
Inca
Impulse
Iota
Igloo
Indy
Icon
Island
Izzy
Idaho
Image
Iron
Imagine
Iceberg
Ivory
Inferno
Ikon
Iris
Iridescent
Intel
Idaho
Icebreaker
Impress
Idyll
Instinct
Illustrious
Invincible
Intrepid
Inflame
Ideal
Illumine
Ignite
Intrinsic
Immortal
Innovation
German Shepherd names starting with J
Jack
Jasmine
Jester
Jewel
Jax
Java
Jasper
Jupiter
Juniper
Jade
Jingles
Joy
Justice
Jiffy
Jigsaw
Journey
Jet
Jellybean
Jazz
Julio
Juno
Jingle
Jazzy
Jaguar
Jamboree
Jester
Jumbo
Joss
Jubilee
Jargon
Jive
Jolt
Jujube
Jockey
Jenga
Jubilant
Jersey
Jettison
Jovial
Joyride
Jelly
Jewel
Jambalaya
Jaunty
Jigsaw
Juniper
Java
Jasper
Jubilation
Jetpack
German Shepherd names starting with K
Karma
King
Kiwi
Koda
Kip
Knight
Kringle
Kiki
Kudos
Kona
Kodiak
Kabob
Kahlua
Kismet
Keen
Kibbles
Kernel
Kisses
Klondike
Kaleidoscope
Knight
Knuckles
Knead
Kindle
Knapsack
Knoll
Kraken
Kumquat
Knickknack
Kylo
Kabuki
Keystone
Knave
Koala
Kitsch
Kale
Keepsake
Kudos
Kaleidoscope
Kickstand
Kerfuffle
Keynote
Krypton
Kaboodle
Kangaroo
Kingpin
Kudzu
Kittenish
Knucklehead
Kestrel
German Shepherd names starting with L
Luna
Lucky
Lulu
Leo
Lily
Lollipop
Lotus
Legend
Levi
Lady
Liberty
Lacy
Lightning
Lyric
Lava
Love
London
Lance
Lavender
Latte
Lancer
Lagoon
Leeway
Lime
Loyal
Lark
Laurel
Lace
Lively
Lynx
Lasso
Licorice
Lido
Lustre
Laughter
Lazuli
Lager
Lumberjack
Ledger
Lighthouse
Laddie
Limerick
Limerence
Lyre
Lariat
Leopold
Lux
Lapis
Lemonade
Linnet
German Shepherd names starting with M
Max
Misty
Muffin
Midnight
Maverick
Mamba
Moose
Melody
Mochi
Mango
Magnum
Marley
Meteor
Mistletoe
Murphy
Mirage
Merlin
Mars
Monty
Munchkin
Muffet
Maple
Major
Marshmallow
Macaroon
Magnet
Minnow
Minuet
Muppet
Matcha
Mustang
Maestro
Monarch
Medley
Myrtle
Mirth
Mosaic
Marigold
Maverick
Matrix
Moxie
Moppet
Melon
Morpheus
Mambo
Melange
Marsupial
Minstrel
Monsoon
Mirage
German Shepherd names starting with N
Nova
Nemo
Noodle
Nutmeg
Ninja
Neptune
Nugget
Nana
Nimbus
North
Nectar
Nightfall
Nifty
Nestle
Nutcracker
Neon
Nickel
Nugget
Narnia
Nuzzle
Neptune
Nougat
Noble
Notion
Nickelodeon
Navigator
Nimbus
Nocturne
Nubbin
Nashville
Nettle
Nuzzle
Ninja
Nomad
Nectarine
Novelty
Noelle
Napkin
Nostalgia
Nebula
Nomad
Nutella
Nunchuck
Nutcracker
Neverland
Normandy
Nymph
Niagara
Napolean
Nightingale
German Shepherd names starting with O
Orion
Olive
Oscar
Opal
Ocean
Oreo
Oakley
Odyssey
Omega
Oracle
Onion
Obsidian
Otter
October
Oxford
Opus
Outlaw
Orbit
Ozzy
Ocelot
Orville
Osprey
Olive
Opulence
Onyx
Olaf
Overdrive
Oatmeal
Oslo
Orange
Orchid
Oldie
Ogle
Oasis
Opulence
Optimus
Opie
Organza
Oyster
Oleander
Osiris
Orion
Ozark
Opalescent
Ovation
Oyster
Oolong
Outlander
Oregano
Olympia
German Shepherd names starting with P
Pepper
Peanut
Pluto
Pumpkin
Pearl
Paws
Pegasus
Poppy
Pixie
Pancake
Phoenix
Pickle
Pudding
Puzzle
Poet
Pinto
Pippin
Pebbles
Python
Poker
Prince
Pringle
Passion
Pina Colada
Pumpernickel
Parsley
Pistachio
Pixel
Prosper
Pooh Bear
Patches
Pantheon
Pouncer
Panda
Polka
Primrose
Peppermint
Plethora
Provence
Prim
Potluck
Periwinkle
Presley
Papaya
Peacock
Pecan
Piston
Poodle
Posy
Paprika
German Shepherd names starting with Q
Queen
Quirk
Quest
Quill
Quip
Quasar
Quake
Quartz
Quiche
Quinoa
Quicksilver
Quaffle
Quantum
Quince
Quid
Quickstep
Quattro
Quorum
Quintessence
Quota
Quibble
Quarterback
Quizzical
Quaver
Quip
Quagmire
Quiver
Quench
Quasi
Quirk
Quasar
Quotient
Queso
Quaver
Quail
Quinoa
Quest
Quack
Quantum
Quandary
Quesadilla
Quint
Queenie
Quo
Quiz
Quack
Quasar
Quasar
Quill
Qubit
German Shepherd names starting with R
Rover
Rainbow
Rascal
Roxy
Rumba
Rocket
Reese
River
Ritz
Rembrandt
Raven
Rodeo
Rumble
Raisin
Roulette
Romeo
Rigby
Ruby
Ripple
Rally
Rider
Ringo
Ripley
Rhapsody
Ricochet
Rapunzel
Rebel
Radar
Rocky
Rhythm
Raspberry
Radiant
Riff
Reef
Relic
Reno
Rumor
Rowdy
Rosebud
Raindrop
Rambo
Rumba
Rhyme
Rhythm
Rhubarb
Racer
Raider
Regal
Rodeo
Razzle
German Shepherd names starting with S
Scout
Skittles
Shadow
Sugar
Sunny
Sage
Snowflake
Scooby
Sparkle
Sapphire
Salsa
Sable
Silver
Saber
Serenade
Saffron
Sherlock
Sundance
Sprite
Socks
Shasta
Soprano
Sushi
Swizzle
Storm
Sparky
Starlight
Sable
Simba
Sonic
Sierra
Swoosh
Snickerdoodle
Smokey
Sinatra
Spindle
Solo
Sonata
Starlet
Snickers
Saturn
Samba
Squirt
Satchmo
Seashell
Sizzle
Squire
Symphony
Smudge
Safari
German Shepherd names starting with T
Tyson
Tara
Titan
Tasha
Thor
Trinity
Tango
Tessa
Turbo
Trixie
Tracker
Tabby
Tycoon
Tundra
Tulip
Tito
Toffee
Tango
Tessa
Trigger
Tempest
Truffle
Topaz
Tucker
Tinkerbell
Titan
Twinkle
Taffy
Tank
Tia
Trooper
Toffee
Tyra
Tito
Trudy
Thumper
Tulip
Taz
Tango
Tundra
Tess
T-Bone
Truffles
Twister
Thunder
Tasha
Trixie
Toffee
Tracker
Turbo
German Shepherd names starting with U
Ulva
Udo
Ulysses
Uma
Ursula
Ulrik
Ulma
Usher
Ulani
Ugo
Unity
Ulrich
Ursa
Uriah
Ulla
Ubert
Ula
Ulan
Urbano
Ulva
Ulfred
Ushi
Ulli
Upton
Umi
Ursel
Ulrico
Ursa
Umberto
Ursina
Ulana
Ulyana
Ulmar
Ugo
Unna
Ulrika
Udele
Uli
Ursus
Umeko
Uberta
Ulva
Ulrik
Ulanda
Umberto
Uri
Ulla
Uta
Ursin
Ulani
German Shepherd names starting with V
Viktor
Vienna
Valkyrie
Vito
Vixen
Valencia
Von
Vesper
Vera
Vinny
Vada
Valor
Viva
Virgil
Vanya
Valko
Viva
Vixie
Velvet
Vargas
Vita
Viking
Vienna
Vespera
Volt
Velda
Vaughn
Vega
Vesper
Vinnie
Viva
Valeria
Voltaire
Vesta
Vinnie
Venice
Vargas
Vixen
Valiant
Vesta
Vivian
Volta
Vixie
Vito
Valencia
Vara
Viggo
Venus
Viola
Vance
German Shepherd names starting with W
Wolfgang
Willow
Winston
Wanda
Wyatt
Whisper
Winter
Watson
Winnie
Walter
Wren
Wolf
Whiskey
Waffles
Winslow
Wally
Winona
Whitley
Wallace
Wendy
Whisky
Wiley
German Shepherd names starting with X
Xander
Xena
Xavier
Xara
Xerxes
German Shepherd names starting with Y
Yara
Yannis
Yasmin
Yukon
Yosef
Yvonne
Yuki
Yale
Yasmine
Yves
Yoko
York
Yuri
Yvette
Yael
Yasmina
Yaro
German Shepherd names starting with Z
Zeus
Zara
Zephyr
Zuri
Zen
Zeppelin
Zephyra
Zane
Ziva
Zeke
Zola
Zander
Zenith
What Makes A Good German Shepherd Dog Name?
Choosing the perfect name for your dog can be as delightful as it is daunting, especially when it comes to naming your German Shepherd. Whether you're looking for a name that's charmingly classic or whimsically unique, there are several factors that can guide your decision.
To begin with, German Shepherds are known for their intelligence, strength, and loyalty, characteristics that could influence your choice. Therefore, you might want to consider names for German Shepherds that reflect these traits. On the flip side, unique names that break away from the norm could also be appealing, adding a hint of fun to your daily calls for your canine companion.
Our list of names offers an abundance of GSD name ideas, featuring both conventional and one-of-a-kind options. As you sift through our top picks, you may find that a certain name for your German Shepherd resonates with you, hinting that you've discovered the ideal name.
Remember, the best names are typically easy to pronounce and distinguishable from common commands to avoid confusion. Hence, it's usually best to avoid names that sound similar to 'sit', 'stay', or 'fetch'.
As German Shepherd owners, the privilege of choosing the perfect name is in your hands. The name will come to define your furry friend, giving them a unique identity. So, take your time when choosing a name. Keep in mind that a great dog's name respects the breed's heritage, fits your dog's personality and feels just right when you call out to your pooch.
Whether it's a tribute to their German roots or a reflection of their delightful demeanor, this guide aims to help you find the perfect GSD name. Remember, naming is a special process, giving your loyal companion a word that will represent them for a lifetime. So, pick wisely, and most importantly, pick with love.
How Do You Pick The Right Name?
Selecting the right name for your German Shepherd dog can be a rewarding journey when you consider the unique aspects of their character and heritage. As dog owners, it's essential to find a name that resonates with your new dog and suits their vibrant personality.
The German Shepherd, known as a dog breed of intelligence and courage, often sparks a desire for strong names. These could reflect their role as working dogs in fields such as law enforcement and search and rescue, leading to tough names that denote strength and bravery. Alternatively, their playful and loyal demeanor might inspire more affectionate or whimsical names for your furry friend.
Exploring popular German Shepherd dog names can provide a good starting point. From classic German dog names like 'Max' or 'Bella' to more unique choices, these popular names for German Shepherds offer a wide variety to suit different tastes.
However, don't limit yourself to these options alone. There are countless cool names out there that could be the perfect fit for your German Shepherd. You may wish to draw inspiration from your favorite books, movies, or even personal experiences.
We've put together a list of potential names to help you make this crucial decision. Remember, the name you choose will be a significant part of the bond you share with your German Shepherd, helping to shape their identity. Whether you opt for something time-honored or entirely unique, the main goal is to give your dog a name you love, and that helps them feel like an essential part of your family.
Dos and Don'ts of Naming Your German Shepherd
Embarking on the adventure of naming your German Shepherd brings both delight and responsibility. Here are some valuable dos and don'ts to aid you in this pivotal decision-making process.
Do consider the heritage and personality of the German Shepherd. Drawing inspiration from their German roots or acknowledging their known intelligence and bravery can result in a name that's both meaningful and appropriate.
Don't rush the process. The name you select will be a crucial part of your bond with your dog, so take your time. You may find that a name that initially caught your fancy doesn't feel quite right after a few days.
Do ensure the name you select is easy to pronounce and distinct. This is paramount in facilitating effective communication with your dog, especially during training sessions.
Don't choose a name that sounds similar to common commands. Names that rhyme with 'sit', 'stay', or 'fetch' can confuse your German Shepherd, making training more challenging.
Do experiment with unique and fun names. There's no rule stating you must stick to traditional dog names. Quirky names can add an extra sprinkle of personality to your German Shepherd.
Don't overlook the importance of a name that grows with your dog. What suits a cute German Shepherd puppy may not befit their mature and dignified adult self.
Do remember that this decision ultimately lies in your hands. Trust your instincts and select a name that you love and believe suits your dog perfectly. It's a name you'll be saying often, so make sure it's one you'll enjoy calling out day after day.
Tips on Choosing the Best German Shepherd Name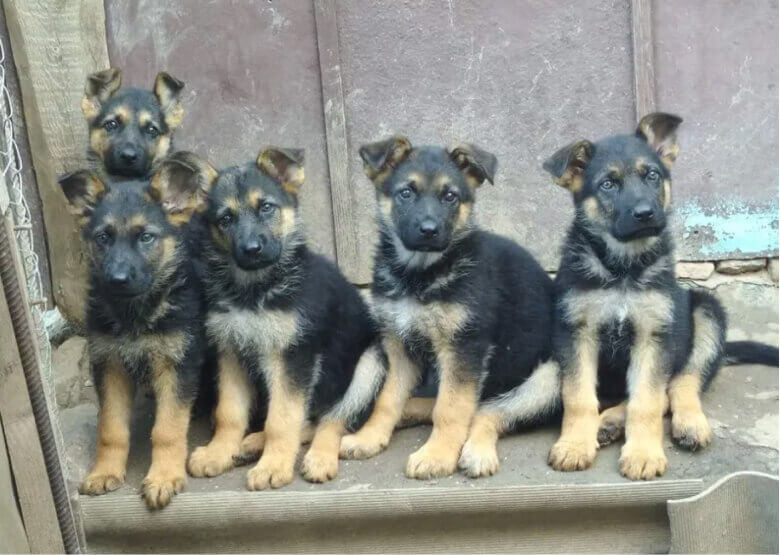 Choosing the perfect name for your German Shepherd puppy is a unique opportunity to reflect their admirable traits. As a breed known for their significant size, exceptional intelligence, and unwavering loyalty, it's only fair that their name should be equally impressive.
It's crucial to honor and respect your German Shepherd's individuality and dignity. Steering clear from dismissive or derogatory names not only preserves your dog's esteem but also reflects your personal respect and understanding of your canine companion. While humor has its place, it's essential that your pup's name isn't the punchline.
To guide you through this process, here are some enriched tips:
Clarity and Simplicity: Opt for a name that's easy to remember, pronounce, and discern. A straightforward, distinctive name benefits both you and your dog, making interactions smoother and training sessions more effective.
Mind the Translation: When considering foreign names, be cautious about the underlying meaning. You don't want to unintentionally saddle your German Shepherd with a name that's inappropriate or nonsensical in its original language.
Go Beyond the Commonplace: Popular names like 'Blacky' for black German Shepherds have become cliché over time. Strive for originality instead, making your German Shepherd stand out in the pack.
Human Names with Caution: While some people may find it charming to have a German Shepherd share their name, it's best to avoid potential confusion. You don't want your neighbor or friend responding to your dog's calls!
Embrace Inspiration: Don't shy away from using names from different cultures, historical figures, or fantasy characters. These can provide a rich tapestry of unique, engaging names that match the prestige of your German Shepherd.
Remember, this isn't a race. Take your time to find a name that encapsulates your German Shepherd's spirit and strengthens your bond with them.
How to Teach Your German Shepherd Their Name
Naming your German Shepherd is only the first step in your naming journey. The next crucial part is teaching your furry friend to respond to their new title. Here's a comprehensive guide to facilitate this process effectively:
Set the Stage: Find a quiet, distraction-free environment. This minimizes potential diversions, allowing your German Shepherd to focus solely on you.
Grab Their Attention: Keep some tasty treats on hand. These will serve as an enticing reward, motivating your dog to respond favorably.
Name Usage: Start by saying your dog's name in a clear, upbeat tone. Keep your voice happy and engaging, drawing your dog's attention.
Reward the Response: As soon as your dog looks at you after hearing their name, immediately reward them with a treat and positive praise. This reinforces the connection between their name and a pleasant outcome.
Repeat: Consistency is the key to successful training. Practice this exercise multiple times a day, but keep individual sessions short to prevent fatigue or boredom.
Expand the Environment: Once your German Shepherd consistently responds to their name indoors, practice outdoors or in locations with more distractions.
Patience and Persistence: Remember, each dog learns at their own pace. Be patient and persistent in your training, and soon enough, your German Shepherd will reliably respond to their name.
This process enhances the bond between you and your German Shepherd, transforming the name from a simple label into a symbol of your special connection.