Experienced dog breeders are well aware of all the nuances of keeping a pet. Beginners often have a lot of questions: how long should they walk with a German Shepherd, how often should they do it, and what are the rules of feeding and vaccination. Therefore, before the responsible purchase, it is important to get acquainted with the nuances of ownership.
At what age can you walk a German Shepherd?
Experts have different opinions about the age at which a German Shepherd can go for a walk. There are two polar positions, so owners should consult their breeder or veterinarian.
Some experts, when asked how to properly educate the pet, argue that it is categorically not recommended to walk puppies before they reach 3 months old. This is due to the high vulnerability of puppies to infections, which they can catch while playing with other dogs during the period when routine vaccinations have not yet been done.
In such a case, the owners need to:
Choose a temporary but strictly defined place for the puppy's toilet.
Put napkins or gravel or sand on it.
Keep a close eye on your puppy.
The negative side of this approach is the increased likelihood of encountering puddles of urine at night even in adulthood.
According to the opposite opinion, up to 2 months old puppies still have the immunity received from their mother, so you should start walking outside as early as possible. Arguments for this view:
Active outdoor play is useful for development, growth, and the puppy's sleep.
Increased production of vitamin D due to exposure to sunlight, preventing the development of rachitis.
Frequent exposure to nature increases the production of general immunity.
If you decide to walk your puppy from an early age, you must choose a small but clean area and prevent him from coming into contact with other animals, especially stray ones.
Until the German Shepherd reaches the age of six months, you should carry him in your arms when walking up a flight of stairs. His spine is not yet strong enough, so sprains when going up and down are detrimental.
How long should you walk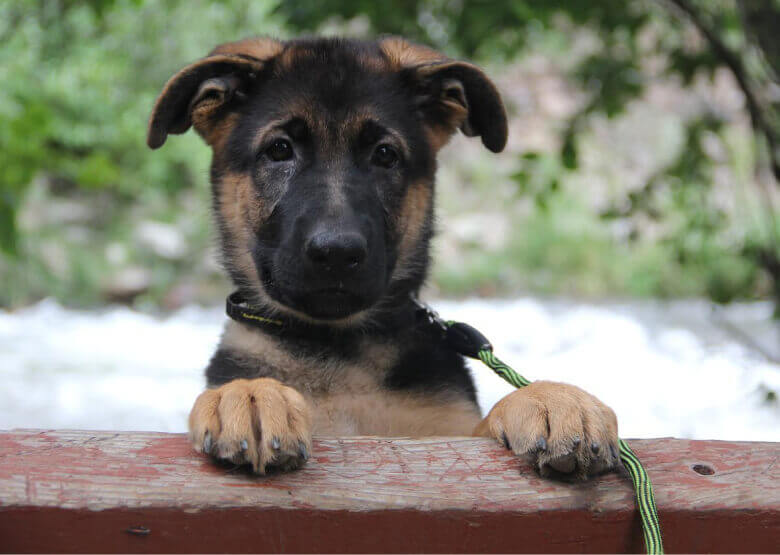 The duration of a walk with a German Shepherd puppy should increase in increments. In the first days, 5-10 minutes is enough to familiarize the dog with the world and empty the bowels and bladder, but you need to go out 5-6 times a day. It is better to go out right after feeding.
Further, the duration of time outside should be in accordance with age:
three months – about half an hour, the puppy should definitely run;
four months – from 40 minutes to 1 hour;
at six months, the normal mode of walking is established – at least two hours, twice a day.
If it is possible to walk longer, you should take advantage of the opportunity. The German Shepherd's temperament needs to release the accumulated energy.
How to properly walk a German Shepherd puppy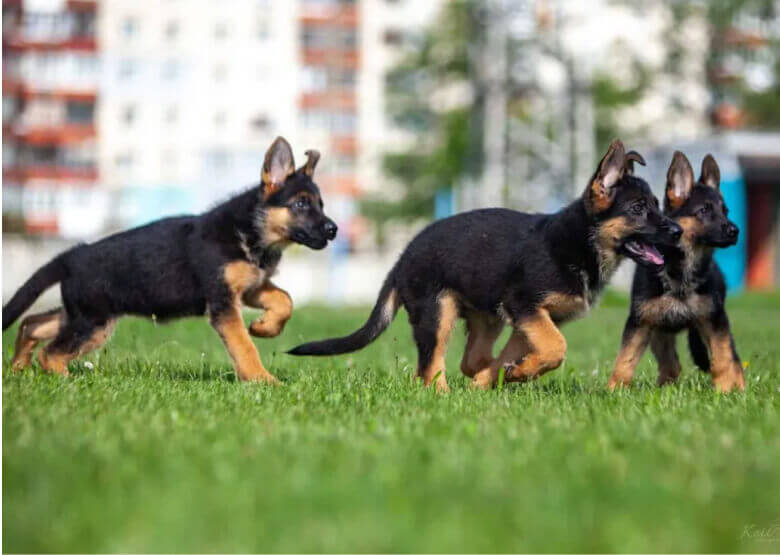 It's not enough to just take your dog out. You need to figure out how to walk your German Shepherd correctly. To do this, you need to follow a few tips.
It is important to use every walk outside to teach your dog to potty outside the apartment or house. While the dog is still very young but is already used to having to pee outside, spontaneous but short walks at night are likely.
Up to 6 months old, it is important to make sure that the dog does not jump over any obstacles. As with ladders, this harms the skeleton and back muscles.
You should try to take your German Shepherd outdoors during daylight hours so that he can enjoy the sunlight. After exploring the nearest surroundings, you should decide where to walk for an extended period of time. Great if there is a park or square nearby where it is allowed to walk the dogs. It is also important to go to special doggy playgrounds. You need to give your pet some freedom to get to know other puppies and adult dogs.
At What Age to Collar a German Shepherd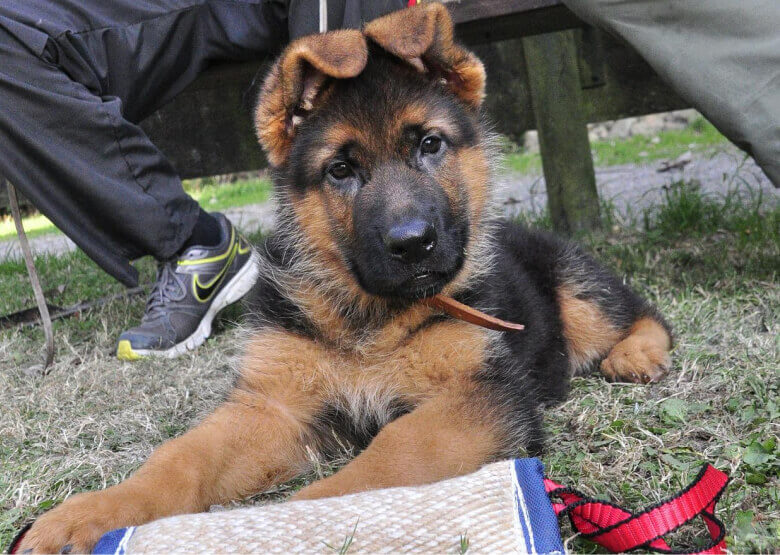 A separate aspect of proper walking with your dog is the collar. It allows:
Control the movements of the dog and accustom the puppy to the leash.
Helps in the initial stages of training.
Prevents him from eating unhealthy food picked up off the ground.
Provides safety when stray dogs appear.
A harness is best for puppies – a tight leash won't put pressure on their breathing. More mature dogs can be leashed to a collar. Answering the question of when you can put the collar on the puppy, many experienced breeders responded with a recommendation to do it as early as possible, so that the puppy got used to the foreign object initially.
Before buying a collar or harness, it is important to pay attention to the material:
Leather – is the most durable, suitable for walks and training, but it is recommended to replace it in rainy or snowy weather. Leather gets wet, stretches, and loses its durability from moisture;
Tarpaulin – holds its shape in all conditions, but is prone to contamination and has a short lifespan;
Synthetic – is versatile and does not have the negative qualities of the previous 2.
To properly put on the harness or collar during the period of accustomization, you need to create a comfortable atmosphere for the puppy: calmly call by name, and offer a treat. "Dressing" the puppy is recommended, while he is busy with a tasty treat. Before buying, it is important to measure the pup. This will allow you to choose the optimal size collar, in which the German shepherd will feel comfortable, and walks will be a pleasure both for the pet and for its loving owner.